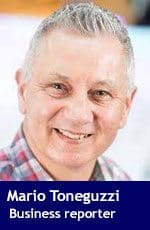 Clay Riddell, a prominent Calgary businessman and part owner of the Calgary Flames, has died at the age of 81.
The National Hockey League team announced the passing of one of the city's most successful and well-known executives on its website.
"We mourn the passing of a great man of industry, sports, philanthropy and human decency along with our city, province and country. His legacies to all of us are immeasurable. To his family our gratitude, respect and deepest sympathy," said Ken King, vice-chairman and CEO of the Flames organization, in a statement.
In a tweet, the Calgary Chamber wrote: "The #yyc business community has lost an icon. A man who knew that strong business equals a strong community. Many leaders are better for knowing and working with Clay. Thank you, Mr. Clay Riddell, for always paying it forward and bettering those around you. You will be missed."
Also in a tweet, Calgary Mayor Naheed Nenshi said: "Incredibly sad. Clay was a titan of our community – in industry, philanthropy, sport, and education. Calgarians feel his legacy now, and we will feel it for many years to come. My heart goes out his family and friends in this difficult time. Know that we all mourn with you today."
And well-known Calgary businessman Brett Wilson tweeted: "Canada lost one of our truly iconic, caring, compassionate leaders in business and community today."
Riddell joined the Flames ownership group in 2003-2004.
His bio on the Flames website reads as follows:
"Mr. Riddell graduated from the University of Manitoba with a bachelor of science, honours degree in geology. Mr. Riddell has an honorary doctor of science degree from the University of Manitoba, an honorary doctor of laws degree from Carleton University, and an honorary bachelor of business administration degree from the Southern Alberta Institute of Technology.
"Mr. Riddell is executive chairman of the board of Paramount Resources Ltd., a publicly traded oil and gas company. He is also chairman of the board of Perpetual Energy Inc.
"In 2006, Mr. Riddell was inducted to the Calgary Business Hall of Fame and in 2008 he was made an Officer of the Order of Canada. Mr. Riddell received the Fraser Institute's T. Patrick Boyle Founder's Award in 2012, and in 2015 Mr. Riddell was inducted into the Canadian Petroleum Hall of Fame. In 2017 Mr. Riddell was made a Companion of the Order of the Canadian Business Hall of Fame.
"Mr. Riddell is past president of the Canadian Society of Petroleum Geologists and past chair of the Canadian Association of Petroleum Producers. Mr. Riddell is associated with several other profit and non-profit organizations. He is chair for the Shaw Charity Classic, the PGA Champions Tour golf event which staged its inaugural event in 2013."
Mario Toneguzzi is a veteran Calgary-based journalist who worked for 35 years for the Calgary Herald, including 12 years as a senior business writer.
---

The views, opinions and positions expressed by columnists and contributors are the author's alone. They do not inherently or expressly reflect the views, opinions and/or positions of our publication.