By Joan Janzen
of The Crossroads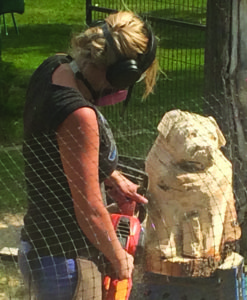 Burstall hosted their 37th annual fall fair on Saturday, Sept. 8, beginning with a parade at 11 o'clock a.m.
A featured event for the day was Marina Cole's personal wood carvings, and she did not disappoint anyone who watched her wield a chain saw and carve creations out of wood.
[emember_protected for="2″ custom_msg='For more on this story, please see this week's print edition of The Cross Roads.']
The popular cuisine of perogies, sausage and cabbage rolls was served at the hall, and the Credit Union treated all to delicious cake.
Meanwhile, a trade show, silent auction and garage sale at the curling rink drew a large crowd, and deep fried elephant ears were served at a popular food venue.
Children enjoyed the face painting, playing in the park where a large bouncy castle was situated, and taking wagon rides provided by Glen Bishoff and his team of horses.
Others listened to live musical entertainment at the Friendship Centre while viewing an arts and craft exhibit. Later in the afternoon, tours of Burstall's new hall took place.
Throughout the course of the event, numerous volunteers worked tirelessly providing a welcoming and friendly atmosphere, and all for a good cause, as the funds generated from Burstall's fair are used to help various facilities in their town.
[/emember_protected]